Location
Address: Pacurari Street, 131-131A, 700544, Iasi, Romania
Distance from the airport: Iasi (10 Km), Bacau (130 Km), Suceava (150 Km), Chisinau (185 Km)



About
OZONO is the largest medical center for dental and facial remodeling in North-Eastern Romania, the direct result of the integration of Concierge Medicine premium services.
Acknowledged for its elite medical teams, for the quality of the doctor-patient interaction, its special design and high-performance equipment, OZONO contributes actively to the consolidation of the Romanian medical ecosystem.
The OZONO Romania Concierge Medicine services available in the city of Iași target exclusively the dental-facial area, extending towards the hair and neck aesthetics. Thus, our patients' appearance will be improved in a unitary and harmonious manner, both from a functional and an aesthetic viewpoint.
OZONO Romania is one of the few medical centers that hold the ISO 9001: 2015 certificate from TÜV AUSTRIA, which successfully assures the confidence of the patients that the medical services provided are in compliance with the established specifications and the legal and regulatory requirements.
Medical specialties
Dental Medicine: The OZONO dental medicine department consists of 6 dental offices, a dental radiology laboratory and an operating block for complex dental procedures specific to implantology. The clinic offers dental surgery services, canal treatments, orthodontic dental treatments, dental cosmetics, dental implants, family dentistry etc. See list of services.
Plastic surgery: The OZONO Clinic offers face surgery services, body surgery, breast surgery, hand surgery, hair implant. See list of services.
Dermatology: OZONO Clinic offers general dermatology services, dermatological aesthetics, pediatric dermatology, dermatological surgery. See the list of services.
Medical experts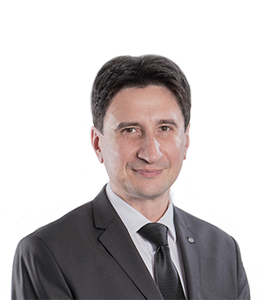 Dr. Codrin Untu
Board Certified Physician in Dental Medicine
Coordinator of the Dental Medicine Department
Talk to a Travis Medical consultant
on 0745252005 for a customized offer.
Travis Medical acts as a promotional agent and medical tourism facilitator for services provided by Medical Center OZONO. Our services include:
pre-selection of a medical service provider based on the details received;
establishing all the necessary programming for consultations;
hiring interpreters/translators;
obtaining a counter assessment (remote);
many packages that can include air tickets, airport receptions services, accommodation, meals, as well as medical treatments with different objectives, assistance in obtaining visas, insurance services.
The medical services are provided and guaranteed exclusively by the medical staff of the partner clinics.
Dental medicine services offered by Medical Center Ozono
• Dental implants
• All-On-4, All-On-6, FAST&FIXED
• Preventive dentistry services
• Periodontitis treatment
• Orthodontic dental appliances
• Dental crowns
• Dental prostheses
• Dental veneers
• Cosmetic dentistry
• Tooth decay treatment
• Family dental care
• Surgical Dental Procedures
• Options of anaesthesia and sedation
• Dental Emergencies
Plastic surgery services offered by Medical Center Ozono
Face
• Hyaluronic acid - cheek bones, dark circles, nose, chin, ear, mandibular contour, wrinkles
• Lips augmentation with hyaluronic acid or fat grafting
• Facelift
• Face & necklift
• Upper lip lift
• Hyaluronic acid dissolution
• Nose - non-surgical rhinoplasty
• Bichectomy
• Facial Reconstruction
• Double chin - liposuction
• Double chin - fat melting
• Blepharoplasty - upper and/or lower blepharoplasty
• Eyes – Alteration of the Shape of the Eye (Canthoplasty)
• Droopy Eyelid (Palpebral Ptosis)
• Lagophthalmos – Gold Weight
• Eyebrow Remodeling
• Forehead - forehead lift
• Cheeks – Mid Facelift
• Facelift with absorbable or permanent sutures
• Earlobe Reconstruction
• Ears – Remodeling (Otoplasty)
• Neck and Cleavage Remodeling
• Nose – Surgical Rhinoplasty
• Chin – remodeling
• Jawbone – Surgical Remodeling
• Mandible – Surgical Remodeling
• Forehead - remodeling
• Botulinum Toxin
Body
• Abdominoplasty
• Skin tumors - papilloma, carcinoma, melanoma
• Cellulite
• Foot - sole fat atrophy
• Scars - injections
• Lipoma
• Liposuction
• Liposculpture - abdomen, biceps, triceps, pecs, calves, knees, joints
• Arms - brachioplasty, liposuction
• Thighs - lifting
• Buttock, chest, calf, biceps, triceps, testicle
• Buttocks remodeling with the patient's own fat
• Thorax-lifting
• Scars - surgical treatment with or without fat
• Pigmented nevi (moles)
• Sclerotherapy of small veins (spider veins)
• Body-lifting - remodeling after weight loss
Breasts
•Breast Augmentation - Implant or Fat Transfer
• Breast Lifting
• Breast reconstruction
• Correction of breast asymmetry
• Areola Correction
• Nipple Correction
• Gynecomastia
• Breast Implant Removal
• Change of breast implants
• Breast reduction
Hand Surgery
• Carpal tunnel syndrome
• De Quervain tenosynovitis
• Dupuytren's contracture
• Guyon's canal syndrome
• Hand skin rejuvenation
• Synovial cysts
• Trigger finger - infiltration, surgery
• Ulnar nerve decompression (the elbow)
Hair
Dermatology services offered by Medical Center Ozono
General Dermatology
• Acne
• Acute and chronic cutaneous infections (bacterial, viral, mycotic)
• Allergic reactions and drug allergies
• Atopic dermatitis
• Autoimmune skin diseases
• Cutaneous tumors
• Dermatology-Venereology - Sexually transmitted diseases
• Hair and nail pathology
• Hyperhidrosis - botulinum toxin treatment
• Melanoma
• Metabolic skin disorders
• Psoriasis vulgaris
• Rosacea
• Seborrheic dermatitis
• Skin pigmentation disorders
• Vascular disorders
Dermatological Aesthetics
• Aquagold treatment
• Chemical peeling by Filorga
• Diamond Microdermabrasion
• Filorga Bionutrilift
• Mesotherapy
• Mesotherapy Nanosft by Filorga
• Microneedling - dermapen
• PB Serum - scars, liopolysis, firm skin
• PRP Therapy - Vampire Therapy
• Universkin personalized treatment
• Zein Obagi Treatment
Pediatric Dermatology
• Atopic dermatitis
• Cutaneous infections
• Genodermatoses (inherited genetic skin conditions)
• Psoriasis vulgaris
Dermatological Surgery
• Curettage
• Electrocauterization of small skin injuries
• Skin biopsy
• Surgical excision